September 5-6, 2019
Granlibakken Tahoe
725 Granlibakken Road
Tahoe City, CA 96145
2019 UC Davis Chemical Biology Retreat Program
Keynote
A chemical biology toolbox for RNA post-transcriptional modification and capture
Jennifer Heemstra
Associate Professor
Department of Chemistry
Emory University
Website: Heemstra Lab
Biomolecules are exquisitely adept at molecular recognition and self-assembly, enabling them to direct all of the processes that make life possible. These capabilities have been fine-tuned by billions of years of evolution, and more recently, have been harnessed in the laboratory to enable the use of biomolecules for applications beyond their canonical biological roles. The common thread that is woven throughout our research program is the utilization of nucleic acid molecular recognition and self-assembly to generate functional architectures for biosensing and bioimaging.  In the process of generating these functional nucleic acid systems, we place a high value on using our experimental results (both successes and failures) to gain a deeper understanding of the forces that drive interactions between nucleic acids and small molecules or proteins. We have developed RNA sequences that recognize specific small molecule fluorophores and catalyze covalent self-labeling, and research is ongoing to utilize these self-labeling ribozymes for imaging of RNA in living cells and transcript-specific capture of RNA-binding proteins. We have also demonstrated the modulation of EndoV activity to enable selective enrichment of inosine-containing RNAs, which we anticipate will lead to the identification of new A-to-I editing sites.
Biography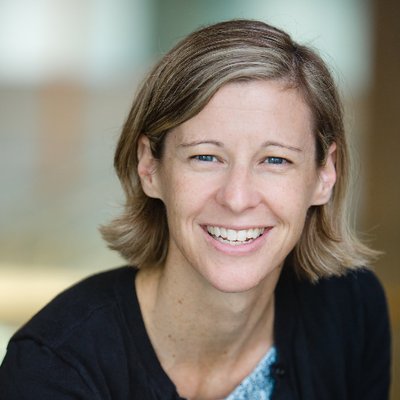 Jen received her B.S. in Chemistry from the University of California, Irvine, in 2000. At Irvine, she performed undergraduate research with Prof. James Nowick investigating the folding of synthetic beta-sheet mimics, which instilled in her a love of supramolecular chemistry. Jen then moved to the University of Illinois, Urbana-Champaign, where she completed her Ph.D. with Prof. Jeffrey Moore in 2005 studying the reactivity of pyridine-functionalized phenylene ethynylene cavitands. After a brief stint in industry as a medicinal chemist, she moved to Harvard University to pursue postdoctoral research with Prof. David Liu exploring mechanisms for templated nucleic acid synthesis. In 2010, Jen began her independent career in the Department of Chemistry at the University of Utah, and was promoted to Associate Professor with tenure in 2016.  In 2017, Jen and her research group moved to the Department of Chemistry at Emory University. Research in the Heemstra lab is focused on harnessing the molecular recognition and self-assembly properties of nucleic acids for applications in biosensing and bioimaging. Outside of work, Jen enjoys spending time with her husband and two sons, as well as rock climbing, cycling, and running.
Registration
Registration Fee
The registration fee includes overnight lodging and four meals (lunch and dinner on Saturday; breakfast and lunch on Sunday). Please make checks payable to "Regents of the University of California." Cash or credit card are not accepted.
Graduate Students/Postdocs: $40 (register and pay by August 2) or $60 (after August 2, based on availability)
Faculty: $100
The rate for students/postdocs is based on double occupancy.  Students/postdocs who wish to have their own room may pay a $67.20 surcharge ($107.20 total).  Students who wish to room with a guest or spouse may pay a $151.20 surcharge ($191.20 total).  Your guest/spouse may join the group for all meals.  These rates increase by $20 after August 2.
The rate for faculty is regardless of single or double occupancy.  Faculty may pay an additional $84 for a guest/spouse ($184.00 total).  Your guest/spouse may join the group for all meals.