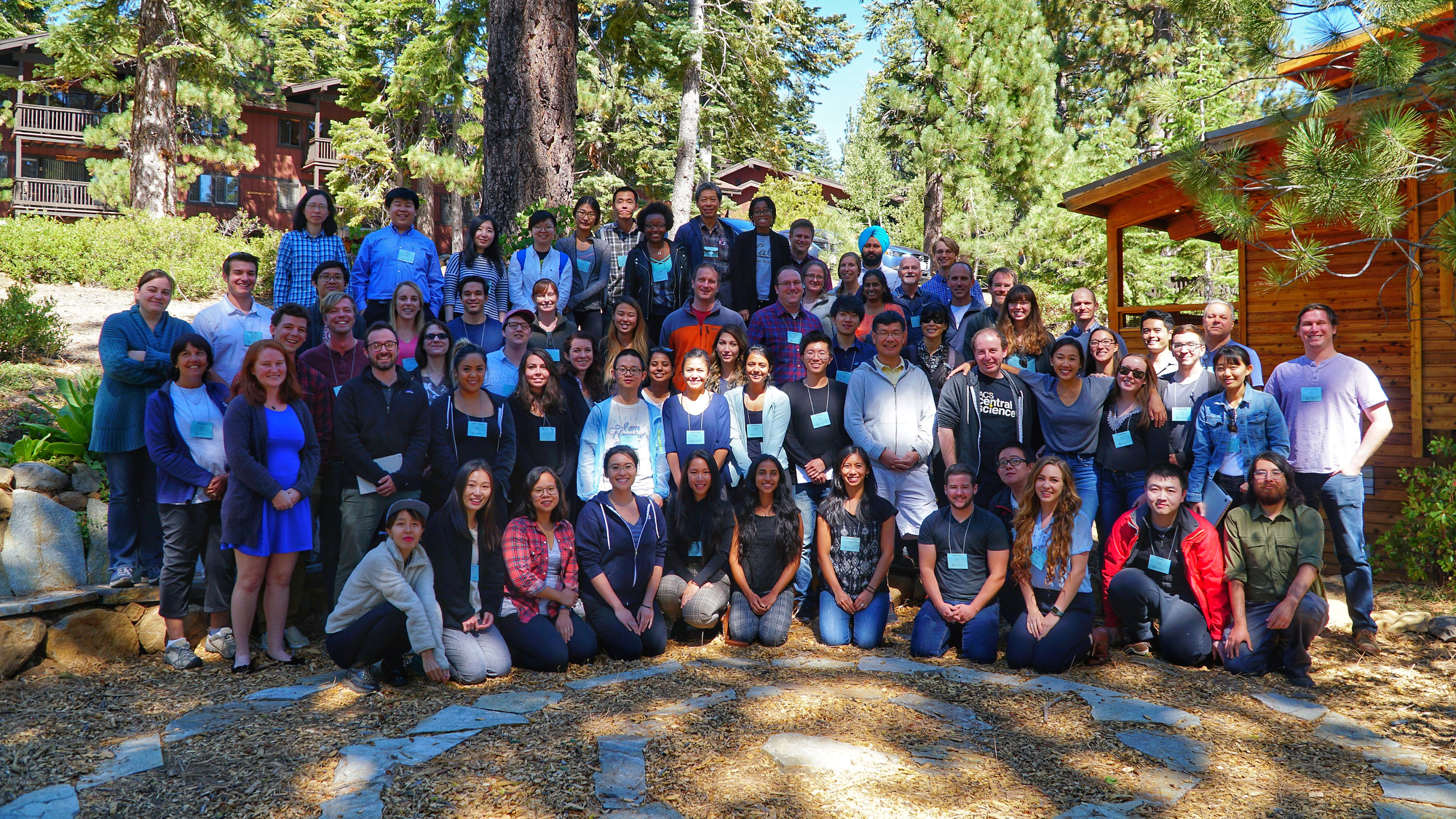 September 15-16, 2018
Granlibakken Tahoe
725 Granlibakken Road
Tahoe City, CA 96145
Schedule
Saturday, September 15
Lunch
12:00 PM - 1:30 PM
Welcome and Introductions
1:30 PM - 1:40 PM: Pete Beal
Session I
Chair: Andrea Coleman
1:40 PM - 2:00 PM: Qinhong "Val" Yu (Ames) - "Structural Basis of Light Activated Signaling by the Red/Green Cyanobacteriochrome, NpR6012g4"
2:00 PM - 2:20 PM: Shivani Bansal (Lam) - "Discovery and Characterization of New Membrane Active Peptides"
2:20 PM - 2:40 PM: Chandrima Majumdar (David) - "Structure-Activity Relationships Using Nucleobase Analogs to Study  Substrate Recognition by the DNA"
Coffee/Tea Break
2:40 PM - 3:00 PM
Breakout Sessions
3:00 PM - 5:00 PM
Ethics in Chemical Biology Research
Career Development
Break, check in to room
5:00 PM - 6:00 PM
Dinner
6:00 PM - 7:30 PM
Session II: Keynote Talk
Chair: Angela Zhang
7:30 PM - 8:30 PM: Ben Shen - "Natural Products as Inspirations for Chemistry, Enzymology, and Drug Discovery"
Poster Session
8:30 PM - 10:30 PM
Sunday, September 16
Breakfast
7:30 AM - 9:00 AM
Session III
Chair: Calvin Ly
9:00 AM - 9:20 AM: Angela Zhang (Atsumi) - "Chemoenzymatic Production of a Plant Alkaloid"
9:20 AM - 9:40 AM: Lan Na (Chen) - "Truncation and Engineering of Heparan Sulfate Biosynthetic Enzymes"
9:40 AM - 10:00 AM: Rigoberto Arenas (Wilson) - "Defining the Structural Determinants of Aldehyde Deformylating Oxygenase (ADO)"
Coffee/Tea Break, check out of room
10:00 AM - 10:40 AM
Session IV
Chair: Erin Doherty, RJ Tombari
10:40 AM - 11:00 AM: Leanna Monteleone (Beal) - "A Bump-Hole Approach for Directed RNA Editing"
11:00 AM - 11:20 AM: Kim Trevino (Louie): "The Development of a Manganese-Based Activatable MRI Contrast Agent Responsive to Glutathione"
11:20 AM - 11:40 AM: Rick Sayler (Britt) - "Substrate Analogue Reactivity in HydG: Radical Counterparts of Relevant Intermediates"
11:40 AM - 12:00 PM: Kori Lay (David): "Using a Fluorescent SAH Biosensor to Analyze MTAN Activity and Inhibition"
Hiking Excursion with Bag Lunches
12:00 PM
Poster Presentations
Andrea Coleman (Ames): "Role of Alpha-Actinin in Surface Localization of the L-type Ca2+ Channel Cav1.2"
Diana Leigh Cudia (Ames): "Structural Characterization of Ferrous Ion Binding to GCAP5"
Morgan Matson (Atsumi): "Electrical-Biological Hybrid System for CO2 Reduction"
Madeline Mumbleau (Beal): "Major Groove Modifications in an siRNA Guide Strand Alter Associated Off-Target Knockdown"
Cody Palumbo (Beal): "Stabilizing the Guide RNA-Cas9 Interaction by Covalent Attachment"
Kevin Pham (Beal): "Chemical Modifications of Anti-microRNA to Enhance Binding Interactions with the microRNA-Argonaute2 Complex"
Agya Karki (Beal): "Structural determination of Adenosine Deamination Acting on RNA 1"
Alexander Thuy-Boun (Beal): "The effect of ADAR2 protein-protein dimerization on substrate specificity"
Erin Doherty (Beal): "Increasing A to I Editing Efficiency by ADAR2 Using Cytidine Analogs"
Anoopjit Singh Kooner (Chen): "Chemoenzymatic synthesis of sialic acid derivatives"
Wanqing Li (Chen): "2,3-Difluoro sialic acid analogs as potential bacterial sialidase inhibitors"
John McArthur (Chen): "Discovering and Engineering Enzymes for Chemoenzymatic Synthesis of Carbohydrates"
Merve Demir (David): "Elucidating Adenine Excision Mechanism of MutY using Transition State Analogs and Site-directed Mutagenesis"
Elizabeth Lotsof (David): "Recognition and excision of oxidatively damaged bases in G-quadruplexes by the DNA glycosylases NEIL1 and NEIL3"
Samantha Hartanto (Fisher): "Characterization of the trifunctional Mycobacterium tuberculosis CysDNC complex"
Xander Wilcox (Fisher): "Hydrogen Bonding Network Linking Inositol Cofactor and Active Site Crucial for RNA Editing"
Angel Cobo (Franz): "New Synthetic Strategies for Spirooxindoles as Potential Therapeutic Compounds"
Cody Yothers (Franz): "Production and measure of therapeutic lipid derivatives in microalgae"
Katie Beglinger (Fraser): "A quantitative analysis of eIF4G phosphorylation by mTOR"
Cindy McReynolds (Hammock): "Beneficial effects of epoxy fatty acids in treating osteoarthritis"
Shabnam Jafari (Lam): "Rapid Discovery of Illuminating Peptides for Instant Detection of Opioids in Blood"
Xiaocen Li (Lam): "α3β1 integrin targeted DM1 micellar prodrug for targeted therapy against ovarian cancer"
Diedra Shorty (Lam): "Identification of Novel Site 2 Targeting Peptides Using One-Bead One-Compound Technology"
Keynote
Natural Products as Inspirations for Chemistry, Enzymology, and Drug Discovery
Ben Shen
Department of Chemistry, Department of Molecular Medicine, and Natural Products Library Initiative at The Scripps Research Institute, The Scripps Research Institute, Jupiter, FL 33458, USA
Email: shenb@scripps.edu
Natural products are among the best sources of drugs and drug leads and serve as outstanding small molecule probes for dissecting fundamental biological processes. Natural product biosynthesis continues to push the frontier of modern chemistry, biochemistry, and molecular biology by revealing novel chemical reactions, complex enzyme systems, and intricate regulatory mechanisms. The progress made in the last two decades in connecting natural products to the genes that encode their biosynthesis has fundamentally changed the landscape of natural products research and sparked the emergence of a suite of contemporary approaches to natural products discovery. Combinatorial biosynthesis has made it possible to produce designer analogues by rational metabolic pathway engineering. Genome mining has allowed targeted discovery natural product scaffolds by exploring the vast combinatorial biosynthesis repertoire found in Nature. Selected examples from our current research will be presented to showcase natural products as inspirations for novel chemistry, enzymology, and drug discovery.
Biography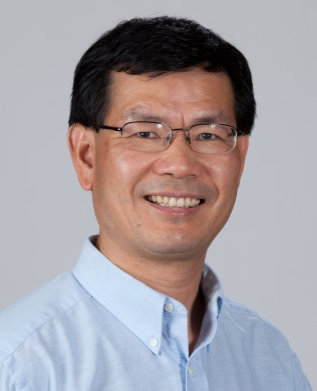 Born and raised in China, Ben received B.Sc. from Hangzhou University (1982) and M.S. from the Chinese Academy of Sciences (under the late Prof. Chutsin Liu, 1984), both in chemistry. Ben came to the U.S. in 1986 to pursue graduate education in natural product biosynthesis, received Ph.D. in organic chemistry and biochemistry from Oregon State University (under Prof. Steven J. Gould, 1991), and carried out postdoctoral research in molecular biology and biochemistry at University of Wisconsin-Madison (under the late Prof. C. Richard Hutchinson, 1991-1995). Ben served on the faculty at the University of California, Davis (Department of Chemistry, 1995-2001) and University of Wisconsin-Madison (School of Pharmacy and Department of Chemistry, 2001-2010) before joining The Scripps Research Institute (TSRI) in 2011. Currently, Ben is Professor of Chemistry and Molecular Medicine and serves as the Chair of the Department of Chemistry for the TSRI Jupiter campus and Director of Natural Products Library Initiative at TSRI. Current research in the Shen Lab includes chemistry, biochemistry, and genetics of natural product biosynthesis and engineering in actinomycetes, natural product discovery from underexplored microorganisms, and natural product-based anticancer and anti-infective drug discovery. The Shen lab has authored >250 publications and 11 published patents (http://www.scripps.edu/research/faculty/shen).
Registration
Registration Fee
The registration fee includes overnight lodging and four meals (lunch and dinner on Saturday; breakfast and lunch on Sunday). Please make checks payable to "Regents of the University of California." Cash or credit card are not accepted.
Graduate Students/Postdocs: $40 (register and pay by August 14) or $60 (after August 14, based on availability)
Faculty: $100
The rate for students/postdocs is based on double occupancy.  Students/postdocs who wish to have their own room may pay a $67.20 surcharge ($107.20 total).  Students who wish to room with a guest or spouse may pay a $151.20 surcharge ($191.20 total).  Your guest/spouse may join the group for all meals.  These rates increase by $20 after August 14.
The rate for faculty is regardless of single or double occupancy.  Faculty may pay an additional $84 for a guest/spouse ($184.00 total).  Your guest/spouse may join the group for all meals.